Grimsvotn, the volcano in southeast Iceland that began its most significant eruption in 100 years on Saturday, sent ash as higher as 12 miles in to the air and grounded airplanes on the country's biggest airport.
The ash from Grimsvotn - about 120 miles (200 kilometers) east of the capital, Reykjavik - turned the sky black Sunday and rained down on close by structures, cars and fields. Civil safety employees aided farmers get their animals into shelters and urged residents to have on masks and keep indoors. No ash fell on the capital.
Watch :

Read more detail and check out some of the pictures from the eruption at: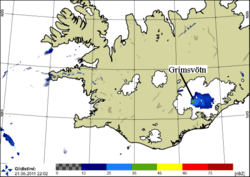 An eruption has began in Iceland's most active volcano Grimsvotn, based on reports reaching right here from Reykjavik on Saturday. The smoke from the eruption could be noticed from several locations in south Iceland, Iceland's tv channel RUV explained in a very report. Iceland's Meteorological Office also confirmed that an eruption had started in Grimsvotn.
Situated inside the middle of the Vatnajokull glacier, Grimsvotn is the most energetic volcano in Iceland, with significant eruptions recorded in 1922, 1933, 1934, 1938, 1945, 1954, 1983, 1998 and 2004. Almost all of the eruptions lasted 1 to three weeks.
An eruption started at Grímsvötn volcano at around 17:30 UTC, May 21st 2011. Eruptions in Grímsvötn start as subglacial eruptions, which quickly break the ice cover. At 21:00 UTC, the eruption plume had risen to an altitude of above 65,000 ft (~20 km). Initially, the plume is expected to drift for the east and subsequently towards the north. Therefore, the ash is just not expected to impact aviation in Europe, at the very least not throughout the very first 24 hours.
Read more detail at :